Inverse Everything – No Friction
An exhibition for HEAD–Genève at Milan Furniture Fair 2012. Using 'inversion' as a fiction device to generate extraordinary contexts for the exploration of new social, spatial and technological interactions. Directed by Auger-Loizeau and El Ultimo Grito, we have been working on a series of possible alterations to the way we live and understand the world around us.
Our part presents what the world would have been without friction. No erosion, en Earth covered with craters, and cities gliding on its surface, making random connections with others.
The setup included a huge air table on which cities models were gliding, and a monitor showing the connection forecast (date and duration of next connections).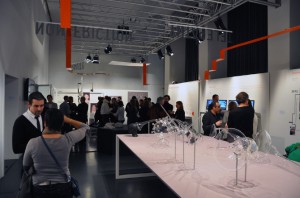 Design team: Mariam Asatryan, Khalil Klouche, Faustine Lavorel, Maisa Moraes, Michael Mouyal.